We were sitting in the blazing sun at my largely unsuccessful yard sale when she talked about how hard it is to get motivated to make the changes we need to make, particularly as we get older – and older.  She wants to downsize her house and the stuff of her life, but it's hard to do, especially when much of it has special meaning to her. For once, I didn't pontificate on tips for "letting go." I just said, "If you wait until you want to let go of something, you will have it forever. Only after you make the choice to do what your brain says is right even though your heart disagrees  will you reap the blessings of letting go."
That is what I have learned during this month of downsizing, and it happened in a split second when I was least expecting it. I had been surveying all the art on our walls, wondering how much we could take along as we reduce our living space by half.  I looked fondly at three Andrew Wyeth prints that I had bought from the "Book of the Month Club" as a teen-ager and had framed when I got married. I have moved those prints half-a-dozen times and they always soothed the transition. But downsizing means letting go, and I mused about whether I could let these wonderful paintings go this time.
Then one day I was chatting with a good friend while her husband, who has trimmed my bushes for nothing but the pleasure of creating works of art for years, was trimming them for the last time. I was inspired to ask her if they wanted the paintings. She was non-committal, but she said we should ask Jim when he finished the trimming. When he was done, I invited him in and took him over to the Wyeth paintings.  She said, "Karen would like you to have these, if you want them."
He looked at me in astonishment!  "You want to give these to me?" he asked, and I thought I saw the hint of tears welling up in his eyes.
I nodded. "I would love to give you these."
"Don't you want them anymore?"
"I can't take them all, Jim," I said.  "These three belong with you.  Do you want them?"
"Andrew Wyeth is my favorite artist!  I  love these.  Which one is your favorite?"
"My fa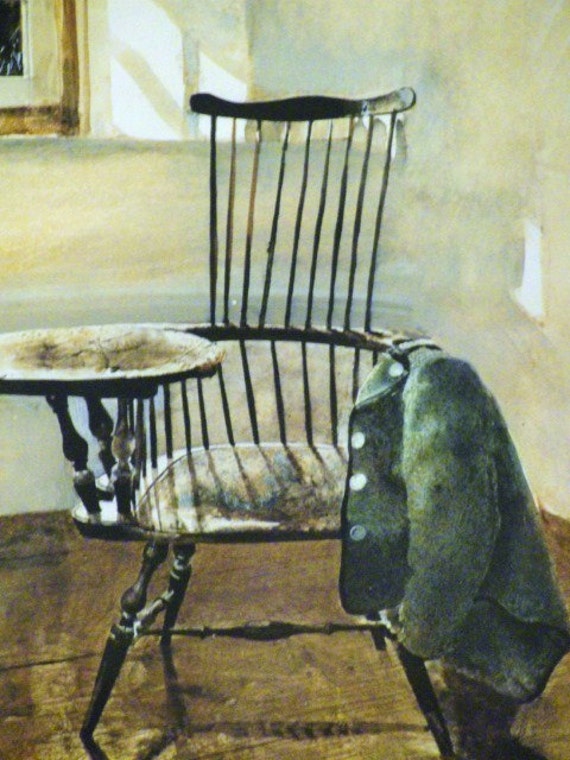 vorite is the writing chair."
"That's my favorite one, too!" He hesitated. "I'll take them, and you can have them back if you change your mind."
I said, "Once I let something go, it's gone. I won't change my mind." He and his wife carefully wrapped the prints in newspaper, and he left with a hug and a big grin on his face. I turned away from the door with a big smile on my face. Once he had accepted my offer, I felt no regrets about turning my favorite art works over to him.  I had gifted them to a friend, and now I could go on without them.
This scenario has repeated itself several times as we pack up our house:  favorite books given to favorite friends; my grandmother's antique desk (along with the promise to tell my grandmother's story) given to someone who will turn it into a sewing center; lawn chairs just made for watching kids' baseball and soccer games taken home by my son; a huge coloring book given to my sister to color in with her granddaughter – and more.
Downsizing, simplifying, letting go – whatever we call it – can be an easy blessing. All that is needed is to give our treasures to others and share the joy we have received from them while they were ours to enjoy.